Chloe Toast Crunch + ChloGurt
The 2022 Olympic Games were golden again for Chloe Kim, and we helped General Mills celebrate her accomplishments with some once in a lifetime collaborations. Our frozen seeding it featured a frosted case, branded morning food collaborations and even a fold out snow park to shred your custom finger snowboard. 
Wheaties 100 : Ali Seeding Kit
Celebrating 100 years by honoring the greatest athletes ever. The first athlete was none other than Ali where we encased the collector gold printed box inside a plex collector case. Next we designed custom boxing gloves with his most famous phrases and developed specialized gym training bags to send choice influencers the unique collection.
Mountain
 Dew Energy : Baja Blast
The Baja Blast flavor release called for an inventive announcement. We decided a treasure hunt  
Skittles x Yoplait 
​​​​​​​
Skittles + Yoplait launched onto the culinary scene with an out of this world explosion of color, inside a prismatic dreamscape of color and flavor. We added a little AR to take it over the top!
Giannis: The First of Many Athlete Kit  
​​​​​​​
To commemorate his first title, Nike created a custom pair of championship kicks, and needed the perfect delivery moment. We jumped in with a quick marble and gold inlaid kit complete with family quotes and finals stats. It weighed in over 25lbs, luckily Giannis works out.
This seeding moment harkened back to the early 2000's when Nike created the Roswell Rayguns commercial series. We tapped into the past to create a unique leather basketball duffle to celebrate the Kyrie x Rayguns collaboration and feature the unique collection merchandise.
Wheaties LeBron Cover Moment 
​​​​​​​
When the GOAT ends up on the cover of Wheaties, its a big deal! This seeding kit was used to announce his arrival on the cover during a pandemic while LeBron was beginning his NBA Finals run inside the bubble. LeBron leaned heavily into his IPROMISE Academy and the so we designed the kit with an homage to the school on the front of the kit.
KD 10 Anniversary Seeding Kit
Nike Basketball reached out to IDL to create a seeding kit for the KD X Anniversary sneaker that was delivered to friends and mentors. I lead a small team in concepting, creating and executing the entire kit project from start to finish. Working from initial pencil sketches and whiteboard doodles all the way through kitting and packing, IDL handled the entire process.

This shoe was Kevin Durant's 10th, with the 'Anniversary' colorway focused on the four primary cities of his career. The swoosh features a color swirl of every team from Texas through Golden State and we used those places as the driving creative for the entire box. We developed city specific pins, custom trading cards with each historic KD shoe and an illustrated poster from each team. The kit even snuck into the STILL KD documentary and found its way to influnencers like Tim Cook, J.Cole and JayZ.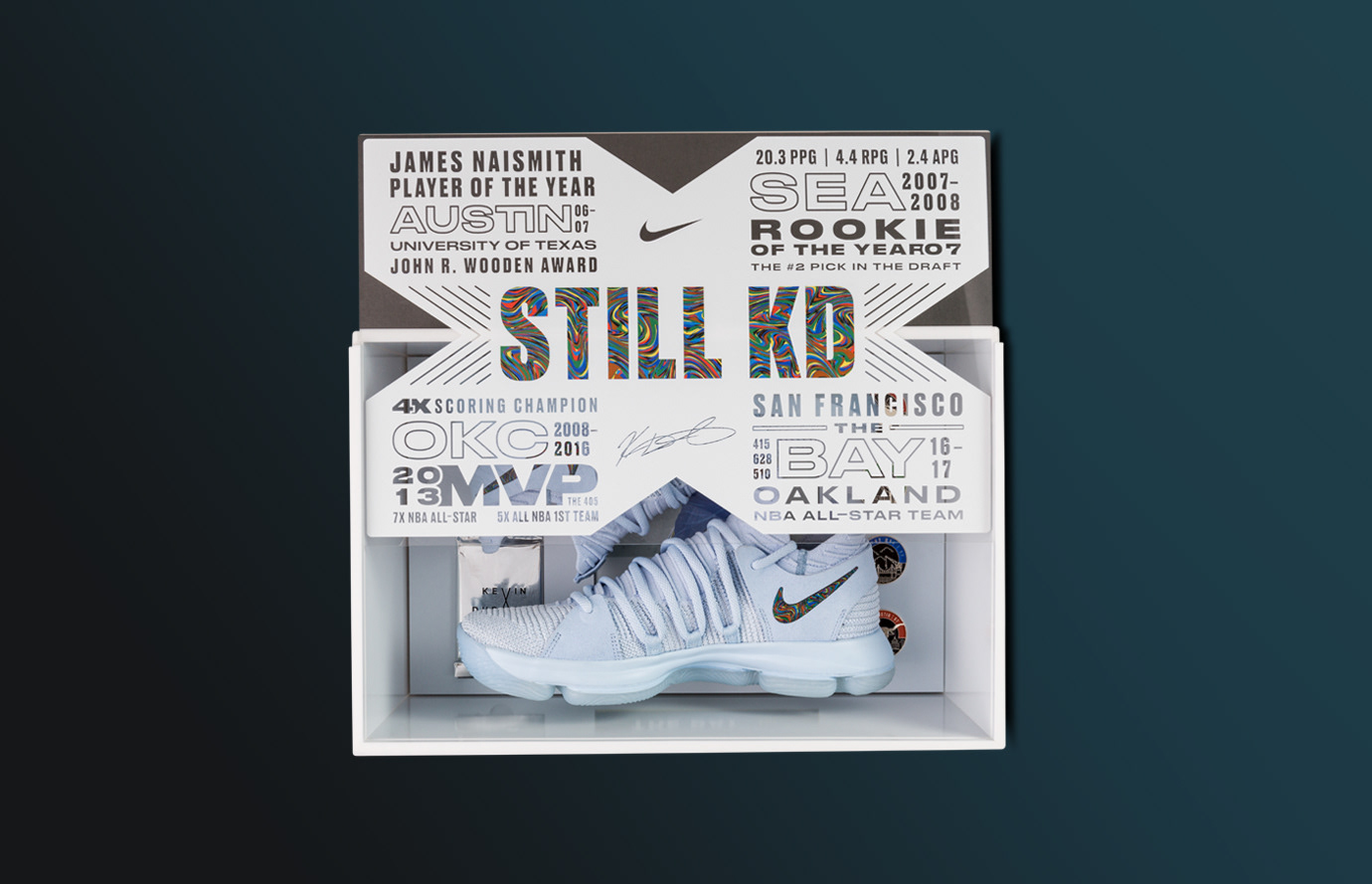 The Air Monarch has become a cult classic. When Nike decided to make a camp themed colorway for a fathers day drop, they reached out to IDL to bring that experience to life! So a few of us dads sat down and ideated across a ton of outdoor specific themes. I was personally a fan of the canoe approach but it looked like a few famous fathers in the PNW enjoyed their kits.
A vast majority of the seeding kit projects I tackle go out to a few hundred influencers across the globe, but others are more intimate. And its these intimate gift encounters that have the ability to make a larger impact on the recipient. This kit went out just to Russell Westbrook and his immediate family to commemorate his second signature shoe. We worked directly with the shoe designer at brand Jordan, Jalal Enayah, to craft a footwear inspired box for an intimate gift moment. IDL also designed the launch environment so I was able to tie directly into the campaign and shoe for dialed end to end visual integration.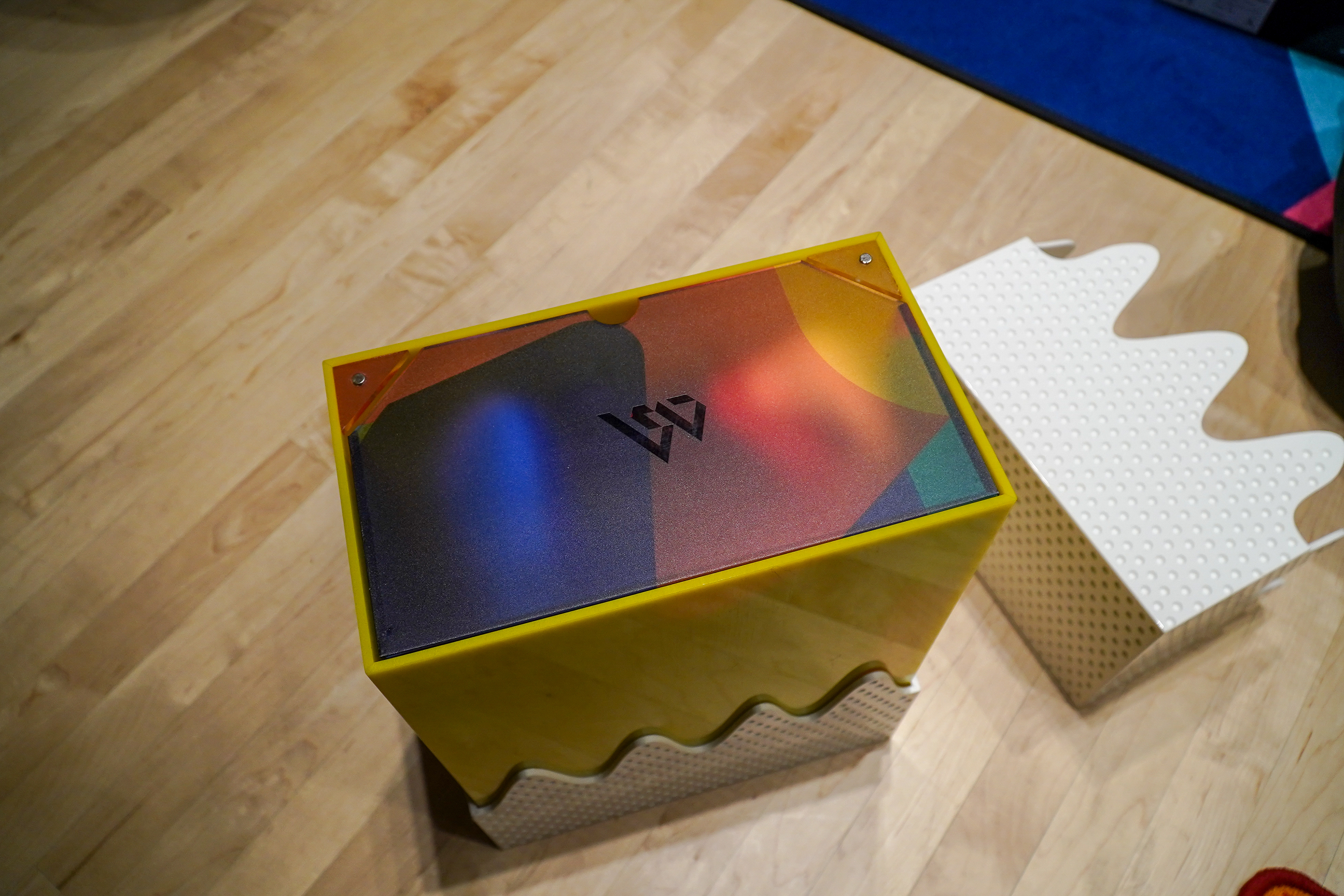 Nike + Moet NBA Finals Seeding Kit
In cooperation with Nike + Moet, IDL produced a custom NBA finals seeding kit.  Fans and influencers of the Golden State Warriors received these custom mini fridges after Kevin Durant helped The Bay secure its second title in three years. 

This project began as a collaborative doodle session with our friends at Nike, brainstorming what a unique, memorable seeding experience might look like. After some debate and ideation, we settled on a mini fridge as our delivery vessel and went about engineering a kit that could both transport the product and remain functional. Moet Chandon is sprayed in the victorious locker room celebration as players are dousing one another with bubbly. We wanted to bring this same post-game experience to the recipient. 

Our fridge design revolved around Moet gold and the cork bottle. Players pop the cork to celebrate, the sneakers were covered in cork and we lined the fridge in cork to tie the kit together. The fridge was co-branded with gold logos and customized to hold a full bottle of Moet Chandon, gold-flecked, black cork AF1 sneakers and even a pair of Nike snowboarding goggles for that championship celebration.
The NBA Finals Fridge went out to influencers and high powered Warrior fans all around the country.
In 2017, Nike began a new partnership with the NBA by launching the most innovative basketball jersey ever created. IDL helped Nike seed influencers before the public jersey release with custom kits for a select batch of 350 lucky souls.

The task began with an ideation round focused on a larger seeding event bringing regional fans from multiple cities together around a launch party. Eventually this event became a more refined kit that was mailed direct, but we had some fun dreaming
up possibilities.

Our favorite idea involved providing the best fans of select team, a day in the life of an NBA player. From signing a contract to riding the bus and touring the locker room, influencers would be able spend a day in the life, complete with a shoot around with the team. At the end of the day, each participant would even get a keepsake jersey kit and team specific poster.

The final kit creation required pairing down our initial thoughts to more timeline friendly execution, focusing exclusively on the personalized garment bag. We moved quickly, from the sketch to a final product that lead the jersey rollout ahead of a sweeping campaign that washed across the retail landscape dominating headlines and digital spaces. The final product entailed a branded garment bag with a jersey hung inside on a custom hanger complete with a team specific tag on the inside and a custom name tag on the outside. Each kit was rounded out by a pair of AF1s in team color inside a branded dust bag. 

The release of the 'Mamba Mentality" book was of course cause for a seeding kit. Being a lifelong Portland Trailblazer fan, helping Kobe Bryant show up correct was the closest thing to an ethical dilemma as I've ever come across in my design career. We worked with a nimble budget, pivoting from an initial collector book volume style execution to a final deliverable that was more streamlined. We were able to get creative with the print techniques and dial in a unique mamba spot gloss pattern pulled directly from the Kobe Lore Series Nike jersey.
Kyrie 5 Australian Open Collaboration 
To celebrate the Kyrie 5 release, Nike created an Australian open sneaker pack pairing up two natives, Nick Kyrgios and Kyrie Irving. The double sneaker collaboration was delivered in custom third eye packaging inspired by the shoe.
Seasoned Traveler  
​​​​​​​
To thank agency clients and friends, we brewed, bottled and labelled a winter warmer ale called the Seasoned Traveler. We built on the concept by developing a Journal: a way to reflect upon the year that was and plan for the journey to come. This was an ambitious project that started with the creation of a 100 page journal as the focal point of the experience. We understand the not everyone identifies as a creative, but adding a little more creativity into any life is never a bad idea. We wrapped the journal in a hand-cut, leather cover and stamped each one. All journals were accompanied by a wooden token for luck, a hand screened a canvas bag, a pack custom Truman playing cards and a shooter of liquid courage to jump start the journaling process. A few of our closest friends ended up with laser engraved boxes.