Gameday Posters / New York Times
When the Portland Trailblazers reached out in need of local artist to create game day posters for the 2018 season, I immediately jumped on board the project. The commemorative poster series features unique designs from local artist for each home match-up during the 2017-18 season. A limited number of 100 posters was be printed and available for sale first come, first served (limit one per transaction) at the Moda Center 
Rip City Clothing Co.
 location every home game.
A percentage of the proceeds from the sale of the posters was donated to the 
Trail Blazers Foundation
, benefiting our local Portland community non-profit organizations. The 2017-18 series raised over $20,000, which was used to positively impact local underserved children and families where they Live, Learn, and Play. In addition to raising funds for our community, the Poster Series provides local artists an opportunity to share their interpretation of Rip City with our fans.
I designed my poster with my 6-year old in mind. He's a big fan of Blaze, the Trail Cat, so I wanted the theme to focus on opposing mascots. I myself was a fan of of Mad Magazine growing up and it seemed like a good time to give the adults in the audience a little nod as well with some Spy Vs Spy homage. The poster was very well received and sold out before half time, luckily I got a few artist proofs!
The poster series was so successful that the team plans to continue game day artwork into future seasons. It generated enough positive publicity for a nice feature in the New York Times as well. It may be just a thumbnail, but my name still made the NY Times for the first time.
I'm a native Portlander who grew up loving the Trailblazers and Rip City before it was #ripcity. We dominated the Supersonics and got our collective hearts crushed by MJ in the finals. The Blazers partnered with all sorts of community businesses during this period, and one such promo involved oversized caricature player glasses, sponsored by Dairy Queen. I had the full sets and they inspired hundreds of sketches (in my youth). These glasses shaped my future and helped lead me into the field of design.
So when the Blazers reached out to me with the desire to create 5 new glasses, I jumped at the chance

. Its not every day you get to create a cultural artifact. I immediately tapped my good friend (and work buddy at Sincerely Truman) Robert Perez to help ensure this project would kick ass. I am a designer, so creating detailed character illustrations is a little out of my comfort zone.

Robert, on the other hand is a phenomenal illustrator.

  So, we teamed up to knock these glasses out on a super tight timeline. 
This project really brought my design world full circle, from sketching players on note book paper and collecting glasses as a youth, to creating the real thing. Check out the video below for a little more info and check out all the images that follow to get an inside look at the project and its outcome. 
Creative Direction + Concepting + Design:
Tim Weakland
Illustration:
Robert Perez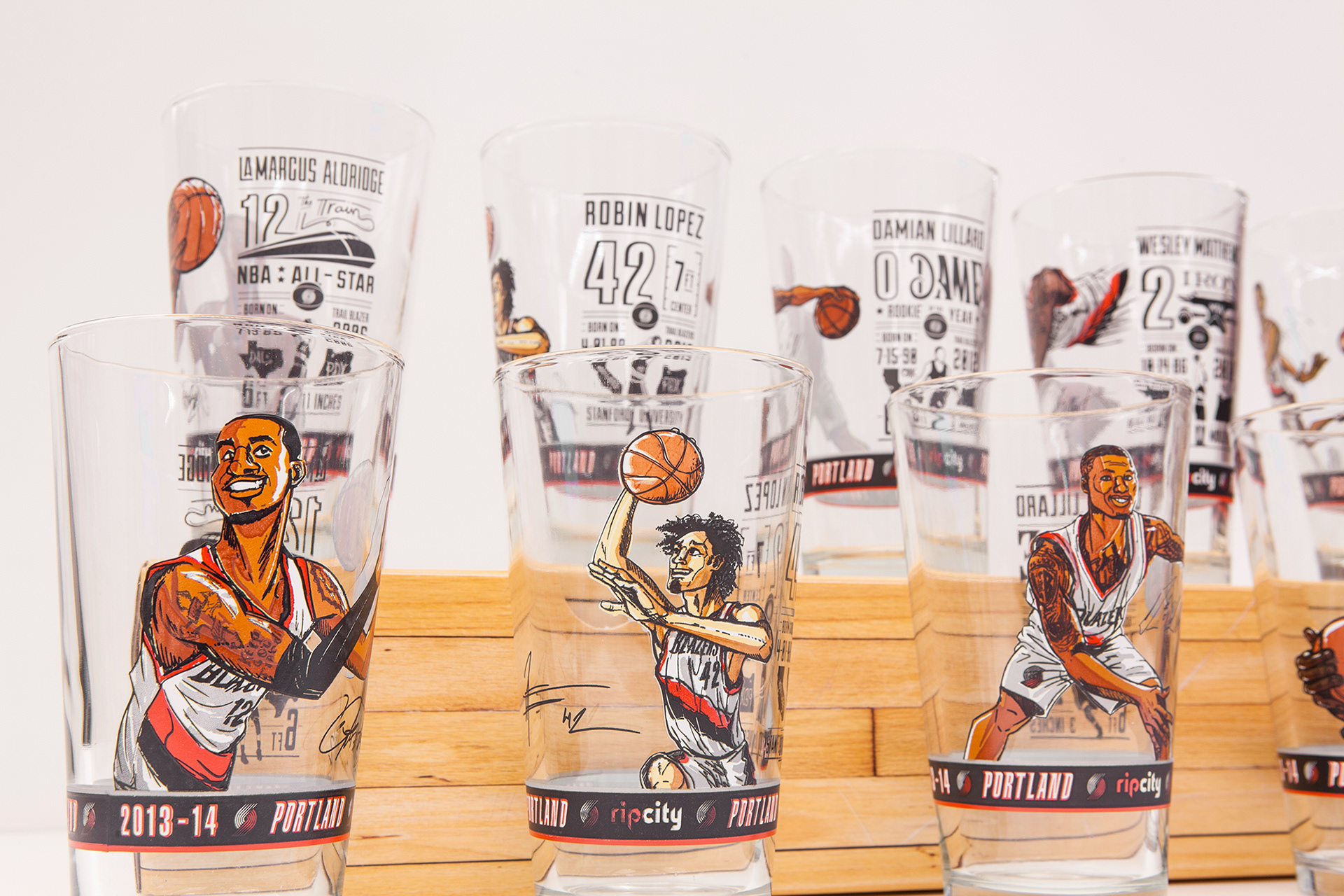 The LaMarcus Aldridge Glass
Season Ticket Holder Sets